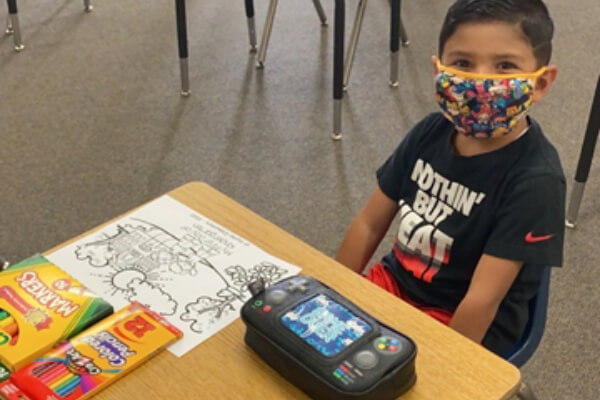 ​
Boise, September 24, 2020 - The below guidelines were delivered to school board presidents and other leaders in education in Idaho on September 23, 2020.
Children are now returning to school. Plans for the safe return of children to school, childcare, and other group settings must include universal use of face coverings of children 2 years and older and the adults they interact with.
When used with other risk-mitigating efforts, masks can further reduce the transmission of SARS-CoV-2 in public areas including school buildings.
According to the American Academy of Pediatrics, masks are considered safe for most children and youth over the age of two years including those with underlying health conditions.
There are very few exceptions for not wearing masks. The following examples should help with decision making for which children should or should not wear masks:
Should a child with asthma wear a mask? Yes. The American Academy of Allergy, Asthma, and Immunology recommends individuals with asthma wear masks in public.
Should a child with autism, an intellectual disability, or mental health disorder wear a mask? Yes. These conditions do not necessarily justify a mask exemption unless the child is unable to wear the mask without excessive trauma or frequent manipulation.
Should a child who cannot communicate clearly while wearing a mask wear one? Yes. Explore instructional adaptions or provide a clear cover in the center of the mask.
Children who cannot remove the mask on their own should NOT wear a mask.
A child who is asleep or unconscious should NOT wear a mask.
A child who is having difficulty breathing should NOT wear a mask.
Masks with exhalation valves or vents should not be worn as they do not prevent the person wearing the mask from spreading COVID to others.
Face shields are NOT an acceptable substitute for masks and do not provide protection for the student or others in the classroom.
David Pate, M.D., former President and CEO, St. Luke's Health System
David Peterman, M.D., Pediatrician and CEO, Primary Health Medical Group
Jim Souza, M.D., System Chief Medical Officer, St. Luke's Health System
John Kaiser, M.D., VP and CMO, Saltzer Health
Joshua Kern, M.D., VPMA for Magic Valley, Jerome and Wood River, St. Luke's Health System
Kenny Bramwell, M.D., System Medical Director, St. Luke's Children's
Mark Nassir, M.D., President, Saint Alphonsus Medical Group
Steven Nemerson, M.D., CCO, Saint Alphonsus Medical Group
Susan Kim, M.D., Physician Director of Pediatric Urgent Care, Primary Health Medical Group
Ted Epperly, M.D., President and CEO, Family Medicine Residency of Idaho