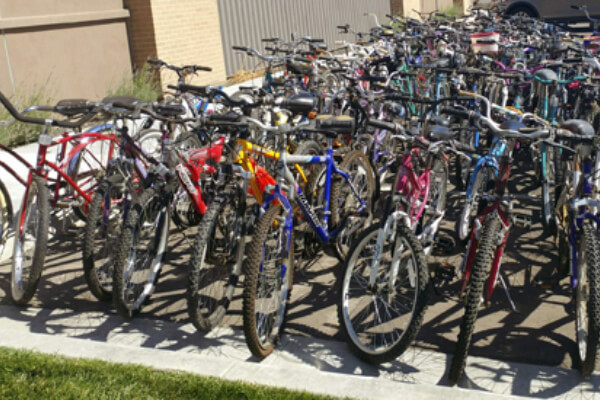 Treasure Valley residents donated an astounding 1,110 bicycles at Primary Health Urgent Care clinics on Saturday, September 30th during the group's first-ever bike drive benefitting Boise Bicycle Project (BBP).
The bike drive kicked off at 10:0am, and by 11:00 am, it was clear extra transportation and storage would be needed right away. Volunteers reported a steady stream of bikes at all urgent care locations spanning from Caldwell to East Boise, with many individuals donating multiple bikes.
Jimmy Hallyburton, BBP Co-Founder and Executive Director, put out a call this week for volunteers to help with transportation and storage. "It's been amazing watching the community pull together for this. Not only the huge number of bikes donated, but so many volunteers helped with trucks and trailers until late Saturday, and they've continued working into this week to get everything moved. We've even had storage space donated while we sort and refurbish the bikes."
David Peterman, M.D., Primary Health CEO and pediatrician, was pleased with the turnout. "We hoped to receive a few bikes at each clinic – that would have been a win for us and Boise Bicycle Project. To receive more than 1,000 is amazing. We thank our neighbors for being so generous, and for helping us reach even more kids and adults with a reliable form of transportation that also happens to be excellent for overall health."
After being refurbished by BBP volunteers and partner programs, the donated bicycles will be gifted to those in need along with bicycle education, a brand new helmet and safety reflective sticker designed by Primary Health employees. Anyone who still wishes to donate bicycles or volunteer should contact Boise Bicycle Project directly through their website, BoiseBicycleProject.org.