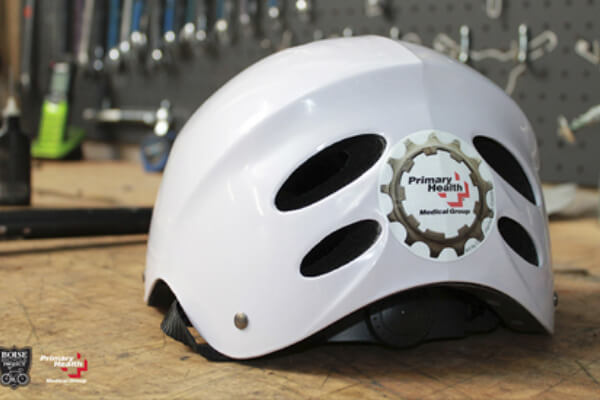 Primary Health Medical Group has partnered with Boise Bicycle Project (BBP) to cover the cost of bike helmets and safety stickers for all BBP bicycle recipients in 2017.
In addition to providing financial support to purchase roughly 1,000 helmets, Primary Health has created reflective safety stickers for each helmet. The stickers were designed by Primary Health employees, and each bike recipient will receive the reflective sticker of their choice.
Primary Health CEO and Pediatrician, David Peterman, M.D., said, "Boise Bicycle Project offers a valuable and unique service to our community, with education and no-cost transportation given to kids and adults who need it most. We're happy to cover the cost of helmets in order to keep riders safe while they stay active, and to remove a financial hurdle so the team at BBP can focus on growing their program even more."
Jimmy Hallyburton, BBP Co-Founder and Executive Director, explained the program in more detail. "We're typically donating about 650-700 refurbished bikes to kids every year. Often times it's their very first bike, and you wouldn't believe the light in their eyes and the smiles on their faces as they hop on board and start pedaling for the first time! As soon as those kids are out of our reach, we know they'll be logging countless miles to and from school and all around their neighborhoods, so education and tools for bicycle safety are of vital importance.
"We are excited to announce a new partnership with Primary Health to ensure each of these bicycles comes with a safety class and a brand new helmet. For these kids, it's so much more than a bike, it's a key to freedom and opportunity in the community. We feel so lucky to be working with Primary Health to make that pedal-powered future even brighter."