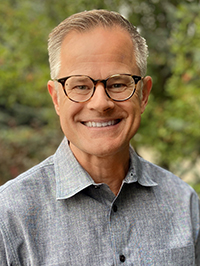 Phone Number
208-377-4400
Hi, I'm Dr. James Wilson, and I've been a pediatrician for 20 years. I'm a father of three very active girls and have been privileged to learn and grow as a parent with them. We love to go rafting, hiking, swimming in Idaho's beautiful lakes, mountain biking, skiing and climbing. As a pediatrician I enjoy working with families to find their footing as first time parents, work through challenges as children grow, and say goodbye as their children leave for adulthood. My approach to pediatrics is one of helping parents navigate complicated information and help them not feel overwhelmed and anxious with parenting. It is the greatest honor and joy to work with children and their family and to know they entrusted me with their care.
Education
University of Cincinnati College of Medicine
Residency
Georgetown University Medical Center
Practice Interests
Comprehensive pediatric care, including mental and physical health, managing childhood obesity, behavioral health and genetic disorders, and common childhood health concerns.
Personal Interests
Outdoor activities, mountaineering, climbing, mountain biking, and spending time with family.