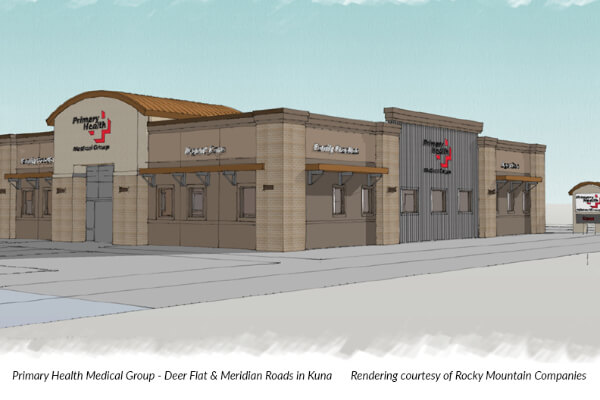 Primary Health Medical Group has announced plans to open three new clinics; two in Boise and one in Kuna, in 2020 and 2021.
All three clinics will offer walk-in urgent care and family medicine by appointment, each with 11 exam rooms, an x-ray suite, trauma room, lab and procedure room in about 6,300 square feet.
The first new clinic will be in Boise at Cole & Fairview, near the former site of Cole Elementary and a new Maverik store planned for the same intersection. Groundbreaking is anticipated for fall 2019 with a grand opening in May 2020.
The second new clinic will be in Kuna at Deer Flat and Meridian Roads, with groundbreaking tentatively scheduled for spring 2020 and a grand opening in the fall.
The third new clinic will be located in Boise at the northeast corner of the Cole & Victory intersection. Construction will begin after ACHD completes its improvement project at the same location, with a projected grand opening in 2021.
"What's exciting about these new locations is that we're serving both new and established neighborhoods. In Kuna, where patients have been asking us to build for years, people who live and work in that area will have now a choice when it comes to urgent care, and more options for family medicine services," said David Peterman, CEO of Primary Health Medical Group.
"At Cole and Victory, residential growth is booming and the area is underserved in terms of health care. The nearest clinics are at least 2 miles away and are already quite busy.
"And of course, many of us have been in Boise long enough to remember Cole Elementary and know some of the history behind the land there. I think people in that area will appreciate that we'll continue to serve families and children at the same site. We're bringing health care closer to established neighborhoods in the more central parts of Boise."
When completed, Primary Health will have 22 clinics in the Treasure Valley, further expanding access to affordable, high-quality health care. The group is in network for virtually all insurance plans, and a discount is offered for self-pay patients.
Primary Health Medical Group is consistently voted Best Urgent Care and one of the Best Places to Work in Idaho. Additional new clinics opened in 2019 in Meridian and Caldwell. Primary Health is currently hiring staff and physicians. Interested individuals are encouraged to visit the Careers page to learn more and apply.