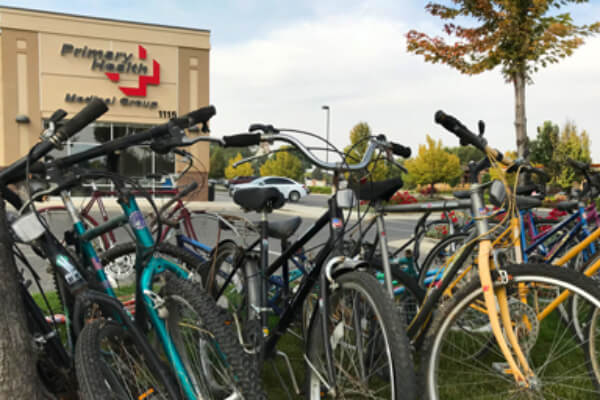 Primary Health Medical Group will host the third annual bike drive for Boise Bicycle Project on Saturday, September 21st from 10 am – 2 pm. The public is invited to drop off their unneeded bikes during this time at any Primary Health location in Boise, Meridian, Garden City, Eagle, Nampa and Caldwell.
Bicycles should be somewhat clean and in working order, but flat tires are okay.
More than 2,000 bikes were donated during the first two years of this bike drive, which is the largest of its kind in the Treasure Valley. Bicycles are refurbished or used for parts by BBP volunteers and partner programs, including the women's and men's correctional facilities, and distributed to children and adults in need this holiday season. Bike recipients also receive helmets and reflective safety stickers donated by Primary Health Medical Group.
"Our partnership with Primary Health and this annual community-wide bike drive has been transformative for our youth programs. Thousands of kids are enjoying the freedom and opportunity that come with riding a bicycle because of this collaborative effort, and we are so excited to see the life-changing opportunities created this year. Okay Treasure Valley... bring us those gently used bicycles!" said Jimmy Hallyburton, Founder and Executive Director of BBP.
David Peterman, M.D., Primary Health CEO and pediatrician, is looking forward to hosting the bike drive again. "Every year, we are so impressed by the number of people who take the time to bring their extra bikes to one of our clinics. It's a wonderful feeling knowing we can help put smiles on the faces of hundreds of kids and adults this holiday season, all while encouraging bicycling as a fun and healthy activity."
Supporters of Boise Bicycle Project who don't have a bike to donate may contribute financially through the organization's website.