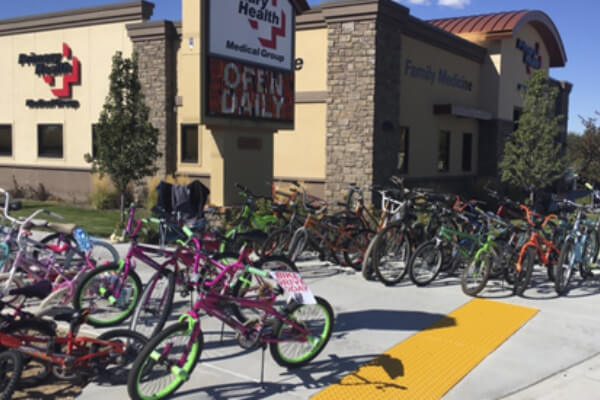 Primary Health Medical Group will host the second annual bike drive for Boise Bicycle Project on Saturday, September 29th, 2018. From 10 am – 2 pm, the public is invited to drop off their unneeded bikes at any of the 17 Primary Health Urgent Care locations in Boise, Meridian, Garden City, Eagle, Nampa and Caldwell.
ALL bicycles will be accepted – any type, any size, any condition.
Last year's bike drive was the first and largest of its kind in the area, bringing in more than 1,100 donated bikes from East Boise to Caldwell. Bicycles are refurbished or used for parts by BBP volunteers and partner programs, including the women's and men's correctional facilities, and distributed to neighbors in need this holiday season. Bike recipients also receive helmets and reflective safety stickers donated by Primary Health Medical Group.
Jimmy Hallyburton, BBP Co-Founder and Executive Director, said, "Last year Primary Health helped us collect over 1,000 bicycles in one day. It was completely mind-blowing and game changer for our Christmas Kids Bike Giveaway. If we see similar number this year, there will hundreds and hundreds of happy kids experiencing the freedom of riding a bicycle come Christmas time!"
David Peterman, M.D., Primary Health CEO and pediatrician, is looking forward to hosting a second bike drive. "We were so impressed by participation last year – our neighbors really stepped up to fulfill a need. Now with two new clinics open in Nampa and Meridian, it's even more convenient for people to donate their unneeded bikes. We appreciate what BBP does for the community and look forward to helping them further their mission again this year."
Boise Bicycle Project and Primary Health Bike Drive
Saturday, September 29th, 2018
10 AM – 2 PM
At 17 Primary Health Urgent Care clinics