Boise, ID, November 14, 2023 – Primary Health Medical Group has donated dozens of helmets for use by skaters at the Downtown Boise Association's new ice skating rink, Glide on Grove.

The rink is located in the center of the Grove Plaza in Downtown Boise and will be completely free for the community to enjoy when it opens later this month. Helmets donated by Primary Health are available for skaters of all ages and feature three unique stickers designed by Primary Health staff and family members.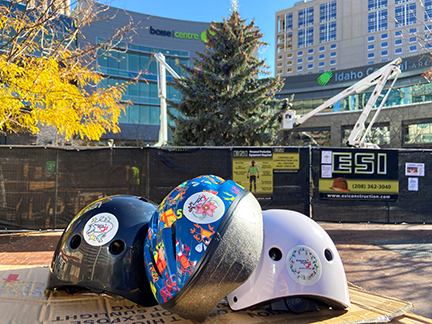 "Ice skaters have a higher proportion of head injuries with falls than any other form of skating, at about 13%," explained Derek Hamblin, Director of Urgent Care at Primary Health. "Whether you feel like a pro or are stepping onto the ice for the first time, wearing a helmet can significantly reduce the risk of serious head injuries while ice skating. We strongly recommend all skaters take advantage of the free helmet rentals this winter."

For concussions, sprains, strains, lacerations and other injuries that may occur on the rink, Primary Health Medical Group's Broadway clinic is the only urgent care open daily from 8 AM – 8 PM near Downtown Boise, located at 1907 S. Broadway Ave. No appointment is needed for urgent care; however, patients may reserve their spot online ahead of time for a shorter wait.