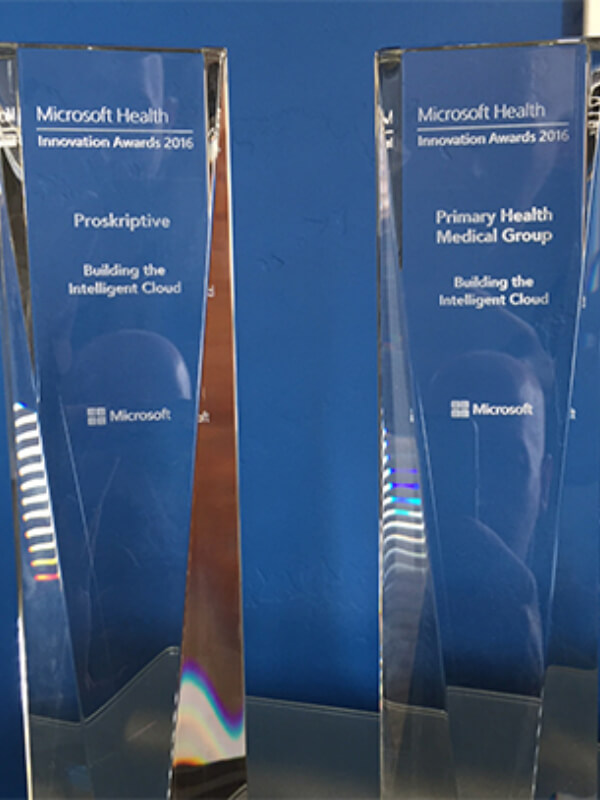 Primary Health Medical Group and Proskriptive of Idaho were awarded a 2016 Microsoft Health Innovation Award in the category of "Building the Intelligent Cloud" for their initiative to simplify the way urgent care clinics manage shared savings contracts in an effort to reduce costs while delivering improved patient care outcomes.
The awards, which were announced at the 2016 HIMSS Annual Conference and Exhibition in Las Vegas, recognize health organizations and their technology solution partners for using Microsoft devices and services in innovative ways that help enhance care delivery for individuals and communities, connect care teams with consumers, deliver data-driven insights to clinicians, and streamline clinical and business processes. The 2016 winners were highlighted for "transforming the industry by creating breakthrough solutions that empower health and life sciences organizations, while meeting global, local and industry-specific compliance and security standards."
Primary Health partnered with Proskriptive, a Boise-based healthcare data science company, when it signed on to its first shared savings contract with a large payer and sought analytics support to help assure the success of the program. Primary Health had to both find ways to reduce costs and maintain the highest quality patient care. Proskriptive technology-enabled Primary Health to have access to the most complete view of the patient possible by bringing together clinical & claims data in order to deliver actionable information. Specifically, Proskriptive was able to identify patients at risk of suffering costly health conditions as well as those with care gaps requiring immediate attention, so Primary Health could deliver key interventions to keep those patients from succumbing to deteriorating health conditions.
David Peterman, M.D., president of Primary Health Medical Group said, "It's overwhelming for a medical group to comb through the massive amounts of claims data available from insurance companies, but it's necessary in order to determine where to apply limited resources to improve care. With the help of Proskriptive analytics, we are able to analyze claims and clinical data on a large group of people and anticipate our patients' priority healthcare needs."
"We work with prestigious hospitals and healthcare research institutions to source the best analytic assets in the healthcare industry and make them available to smaller organizations such as Primary Health," said Michael Hollenbeck, Proskriptive CEO. "As a result, we are able to offer a very sophisticated solution, built on Microsoft Azure, at a fraction of the cost of comparable solutions so healthcare organizations like Primary Health can more easily identify and better manage risk within their patient population."
"The health industry is undergoing a seismic shift in which intelligent technologies are helping organizations, communities and individuals improve care by helping them better understand and share information," said Laura Wallace, vice president, Health & Life Sciences, Microsoft. "This year's Microsoft Health Innovation Award recipients are advancing the goals of improved patient engagement and care coordination through their pioneering use of Microsoft devices, platforms and cloud services."