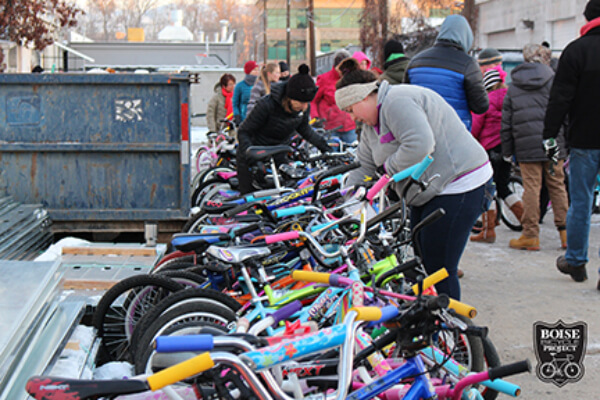 Primary Health Medical Group will host what they hope to be Boise Bicycle Project's largest bike drive to date. On Saturday, September 30th, the public is invited to drop off their unneeded bikes at any of the 15 Primary Health Urgent Care locations in Boise, Meridian, Garden City, Eagle, Nampa and Caldwell.
ALL bicycles will be accepted – any type, any size, any condition.
Bicycles will be refurbished or used for parts by BBP volunteers and partner programs – including the women's and men's correctional facilities – and distributed to neighbors in need this holiday season. Bike recipients also receive helmets and reflective safety stickers donated by Primary Health Medical Group.
Jimmy Hallyburton, BBP Co-Founder and Executive Director, is optimistic about being able to increase the number of bikes given away this year. "We've recently expanded our Shifting Gears inmate program to include the Women's Work Release Center and the Men's Correctional Facility. By training these inmates in bicycle repair, we hope to double the number of bicycles we donate to kids in the community while making it possible for inmates to earn a bicycle for their own transportation upon release. With the support of Primary Health and the community at large, we think this program will make it possible to donate over 1,000 bicycles to Treasure Valley children each year," he explained.
David Peterman, M.D., Primary Health CEO, and pediatrician, explains the ease that comes with multiple locations. "It isn't always convenient to load up an extra bike and drive it to Boise Bicycle Project in downtown Boise. We think the option of dropping it off at your neighborhood's Primary Health is quite appealing. In addition to being low-cost and convenient, biking is very good for overall health. We look forward to helping put even more bicycles directly into the hands of our neighbors so they can experience those benefits."
Boise Bicycle Project and Primary Health Bike Drive
Saturday, September 30th, 2017
10 AM – 2 PM
Find your nearest clinic here!