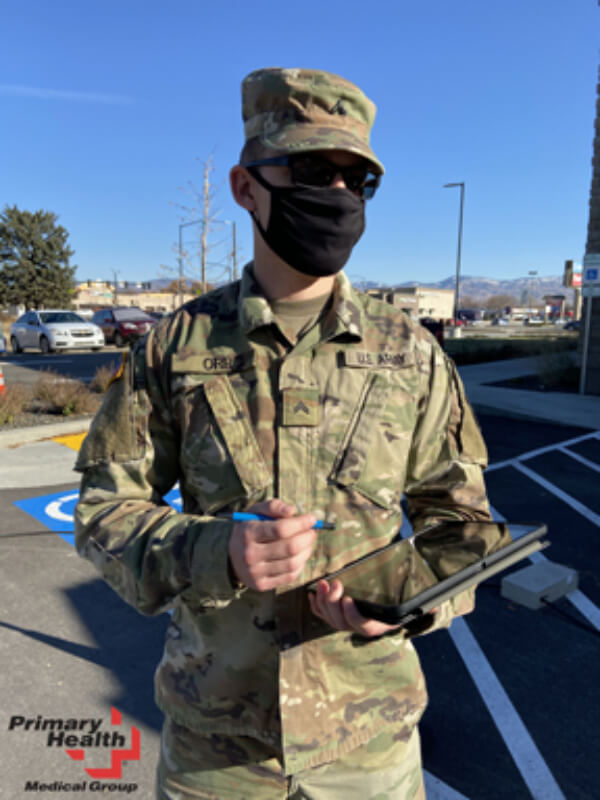 Citizen-Soldiers and Airmen Stationed at Multiple Clinics 7 Days a Week
November 23, 2020 - Governor Brad Little has called upon the Idaho National Guard to dispatch citizen-soldiers and airmen to multiple Primary Health Medical Group clinics offering COVID-19 screening and testing services, as Idaho faces the third wave of coronavirus infection.
Since March, Primary Health Medical Group has administered more than 60,000 COVID-19 tests in the Treasure Valley. Demand for testing continues to grow as infection spreads and people in the community develop symptoms. National Guard members have stepped into triage-type roles, which allows Primary Health staff to focus on the more technical aspects of patient care.
"On a daily basis, many of our staff are unable to work due to illness or exposure to COVID-19 through community spread. This puts us at risk of having to turn patients away or delay care," explained Dr. David Peterman, Primary Health CEO. "This is a critical time for our community and it is essential we test as many people as possible for coronavirus in order to understand how and where it is spreading. We are incredibly grateful to the National Guard for helping us keep our clinics running smoothly, so we can safely take care of our patients."
Dr. Peterman added, "Primary Health has many employees who have served in the military and are currently members of the Guard. We are very proud of their service and would also like to thank the Governor for his support and declaring a state emergency. Please, everyone, have a safe Thanksgiving, stay close to home, and wear your mask."
Brig. Gen. Russel Johnson, director of the Joint Staff, Idaho National Guard, said, "The Idaho National Guard stands ready to support our community and front line healthcare workers as we continue the fight against COVID-19. Although this crisis is unlike past emergencies like floods and fires, our mission to help the citizens of Idaho remains a top priority."