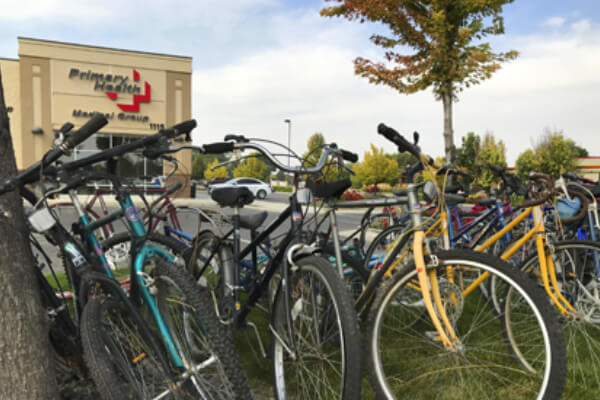 Community members donated around 900 bicycles at Primary Health Urgent Care clinics on Saturday, September 29th during the group's second annual bike drive benefitting Boise Bicycle Project (BBP).
New this year, the donated use of U-Haul trucks and PODS storage containers helped facilitate the transportation and storage of donated bikes. BBP volunteers immediately began sorting and refurbishing the bikes, with a goal of giving away hundreds to local kids this holiday season.
David Peterman, M.D., Primary Health CEO and pediatrician, said, "After receiving more than 1,100 bikes last year, we weren't sure what to expect this year. We thought maybe people had cleaned out their garages and there wouldn't be many bikes left to give. But we were proven wrong! Bikes were received at every one of our 17 urgent care clinics spanning from Caldwell to east Boise, showing once again how generous our community is when called to fulfill a need."
Anyone who still wishes to donate bicycles, volunteer, or register to receive a free bike should contact Boise Bicycle Project directly through their website, BoiseBicycleProject.org.